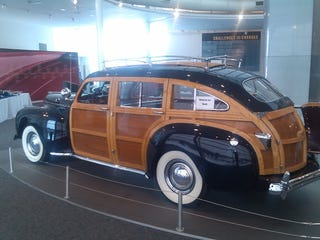 Here's the first-ever Chrysler Town & Country. Well, the first Chrysler car to ever be called Town & Country. This is a 1941 model, but unlike the Chevrolet Caprice or Ford F-Series, Chrysler applied the Town & Country moniker to various cars on different platforms — including station wagons, four-door sedans, convertibles and now a minivan.
At the Chrysler Museum in Auburn Hills, MI, where this beauty is housed, I overheard two engineers discuss how the Town & Country name came to be — and it's way more simple than the kind of focus-testing, market-researched nomenclature that goes on in today's industry.
"This is the 'town' part," one engineer says, pointing to the chromed-out front end, "and this is the 'country' part," he adds, pointing to the varnished wood panels on the doors. (Real wood, not would-grain or the mystery meat found in Ikea furniture.)
Pretty simple, eh?
A little more research by way of Curbside Classic indicates the forward-thinking of the time:
According to Richard Langworth's "Chrysler and Imperial", Paul Hafer, of Boyertown Body Works, first doodled a sketch of a jaunty wagon that he titled "Town and Country". At the time, virtually every city-dweller who was well-off had a place in the country, and here was a vehicle that would look smart in both places and on the drive between them. Chrysler President David Wallace picked up on the idea and made it happen. Although technically station wagons, they were unlike any that came before, with a sloping, solid steel roof borrowed from Chrysler's long-wheelbase limousine. Streamline Moderne meets the Wild West. Which is pretty much where America's consciousness was at the time: straddling two very different worlds.
"Two different worlds" sounds a lot like the concept of crossovers we have today. I doubt the Town & Country of 1941 had upper-middle-class soccer moms in mind when Chrysler sent them to dealers, but the idea of a vehicle that played to both sides of the brain goes back earlier than we think.
Interestingly enough, Chrysler is considering letting the Town & Country ride off into the sunset next year unless a rumored "people carrier" will continue carrying the 72-year-old trademark.